Thrive from future trends
Quantumrun
Foresight
Platform
78% of the companies we surveyed failed to effectively incorporate emerging trends into their strategic planning and product development initiatives. As a result, these companies faced increased exposure to risk from outside disruption and lost revenue from missed market opportunities.
Equip your team with the leading trend and foresight platform used by multidisciplinary, future-focused teams working across departments in Strategy, Innovation, Product Development, Investor Research, and Consumer Insights. Convert trends into practical insights for your business.
Every day, our analysts publish trend insights about a wide range of industries, fields, and topics. Enterprise accounts further benefit from trend content custom-written to their specific research priorities. Our bookmarking feature then allows you to curate those trend articles that are relevant to your business into custom "Lists" that you can visualize inside one of the collaborative "Projects" outlined below.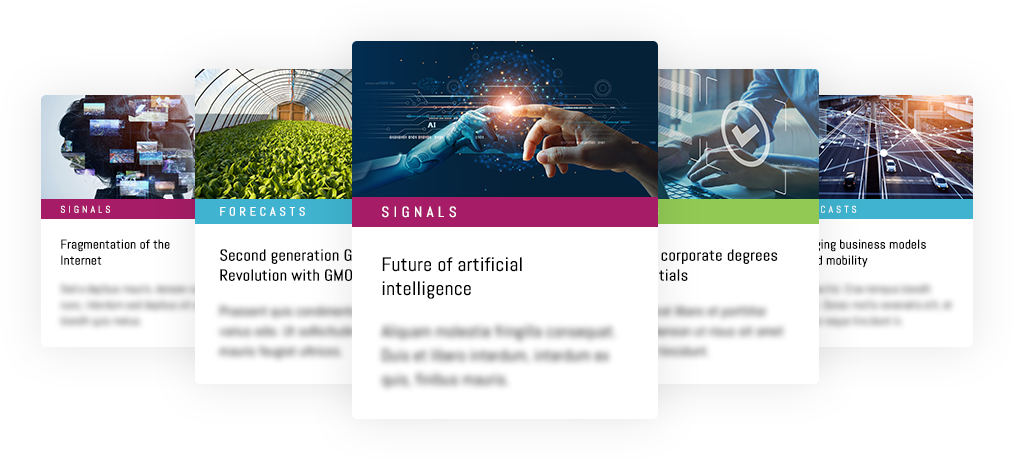 This project page is an easy-to-use visualization interface that allows teams to collaborate and segment trend articles into near, medium, and long-term strategic planning objectives.
Key feature 2: Import any of your custom Lists into the Strategy Planner project interface and collaborate with your team to explore and segment the List's trend insights into different strategic focuses.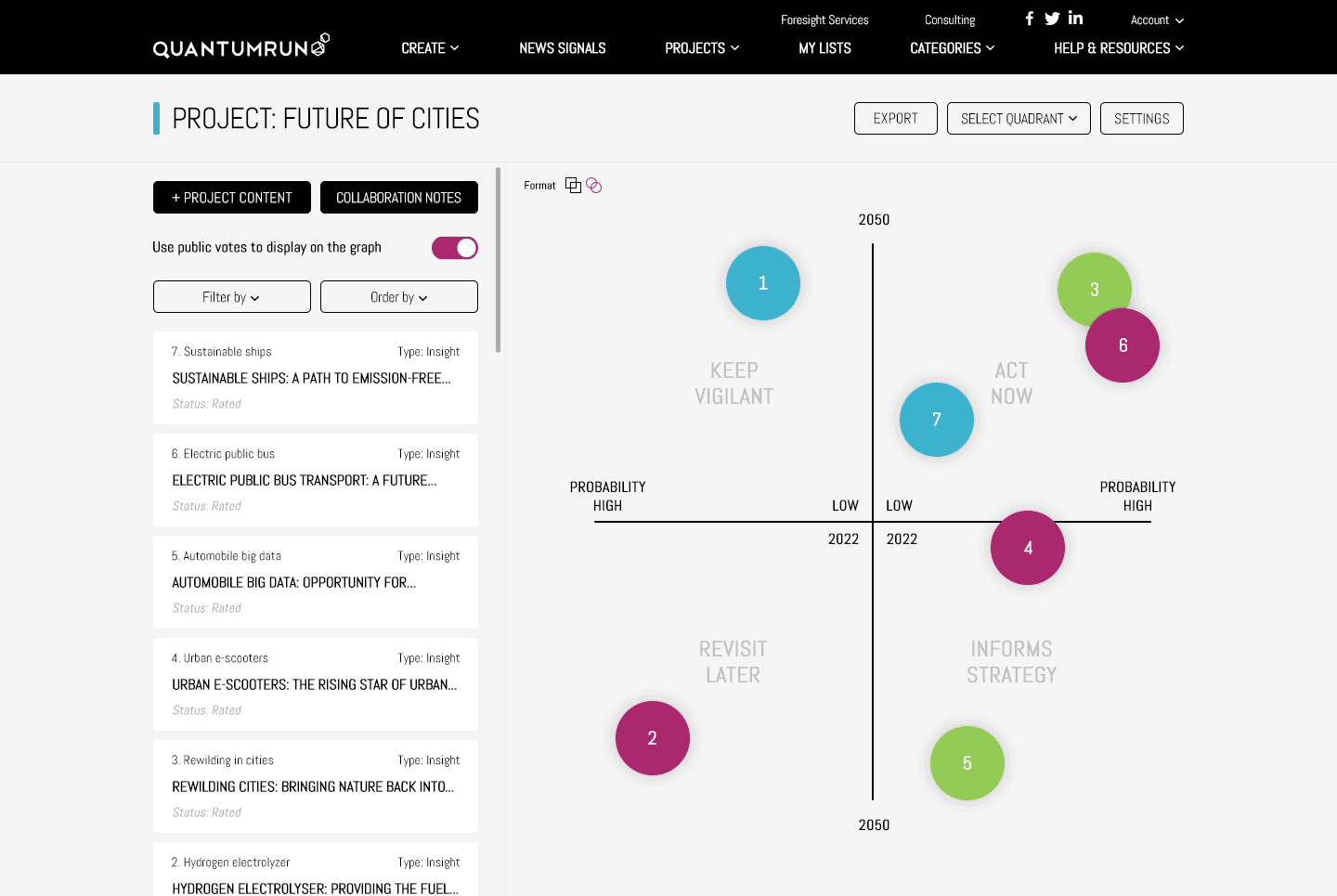 This interface allows teams to visually identify relationships between trends inside a moveable 3D grid to uncover innovative ideas for products, services, policy ideas, and business models.
Key feature 3: Import any of your custom Lists into the Ideation Engine project interface and collaborate with your team to filter and visually isolate groupings of trends that may inspire future business offerings.
This interface improves company preparedness by allowing teams to segment and analyze trend insights across dozens of variables to visualize hundreds of possible business scenarios.
Key feature 4: Import any of your custom Lists into the Scenario Composer project interface and collaborate with your team to explore and segment the List's trend insights using nearly two dozen variables, in hundreds of possible variations.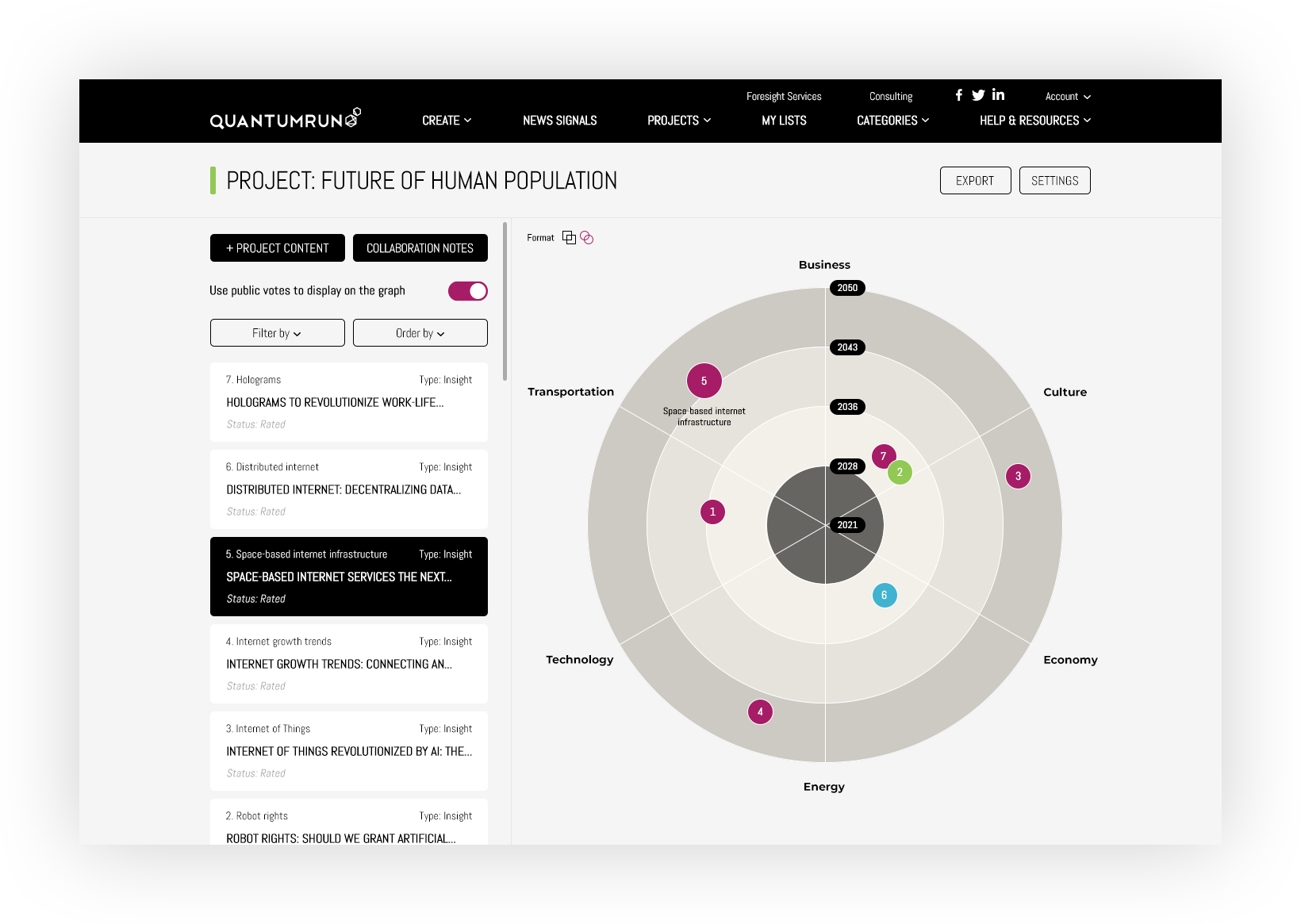 Annual Pro and Enterprise subscriptions include 20% off all supplementary consulting services. And for most clients, a single platform subscription often pays for itself by freeing up your team's time to focus on higher-level research and analysis projects. Time savings typically include:
• 60% less time spent on trend scanning activities.
• 35% less time on insight creation and report writing.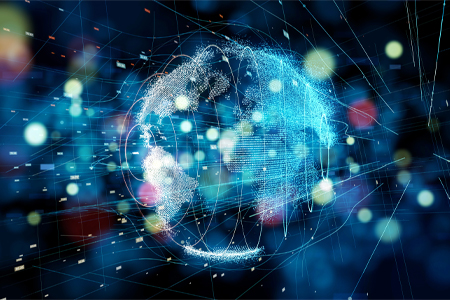 Trend intelligence.
Strategy development.
Scenario planning.
Product ideation.
All integrated inside the
Quantumrun Foresight Platform
The Quantumrun Foresight Platform is online-first and designed for collaboration, all to enable your team to work together on futures planning and strategy development whenever and wherever they are.
In need of a sign-off, first?
Download a brief overview of the platform's benefits, as well as pricing and plan information to be shared with approval stakeholders and whoever holds the budget.
Belong to a non-profit or post-secondary institution?
To take action on our Corporate Social Responsibility (CSR) principles, Quantumrun Foresight has committed to donating 'PRO' level account subscriptions to non-profit organizations and post-secondary educational institutions. Contact us to learn more.